Our favorite athletes have returned to the gridiron, which officially kicks off the fall season. Many will be indulging themselves not only in keeping their eyes glued to the TV screens, but their fantasy scores as well. Fantasy football is an ever-popular phenomenon, but we're stepping it up a notch. We're playing Fantasty Foodball.
Any bench-warming schlub can play fantasy football. You just pick the best players and take your chances on the field. Last year we launched Fantasty Foodball to great success and we've decided to re-up on that by challenging all of you to yet another season.
For the next three weeks, you're going to have the opportunity to draft the best foods and fill out your virtual nomz roster. Just vote online (your stomach will help you decide) on the matchup every week and if the item you voted for gets the most votes, you get to add a notch in the win column. Not only will you get to celebrate your victory, but you will also be rewarded with a coupon code for you next order! If you get all three matchups correct you could win our grand prize. But before you start celebrating a championship, you have to enter this week.
Here is where you can make your picks!
This week's matchup should be a great one.
WEEK THREE PREVIEW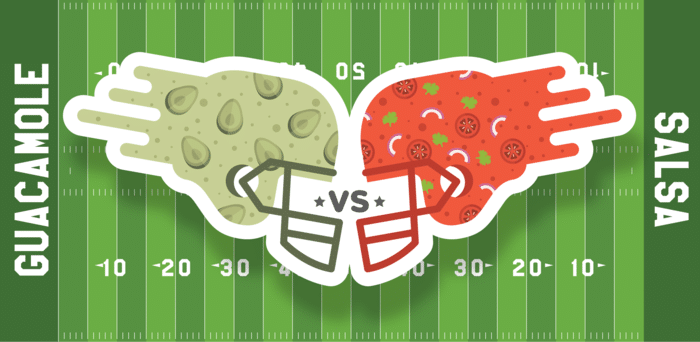 Two weeks thus far in Fantasty Foodball and two blowouts have been the results. Week 1 saw Pepperoni clean house against Supreme and in Week 2 Genereal Tso's blew Lo Mein out of the little white box, hauling in 76% of the vote! We're expecting this week to be a little closer between two of everyone's favorite dips: Salsa and Guacamole.
Salsa comes in as then preemptive favorite, touting its many ingredients and flexibility as its strengths over the competition. Guacamole insists it's rabid fan base will far outweigh its detractors. The ultra confident avocado went on the record saying, "They give that salsa stuff away for nothing. I'm a premium item. No one is plopping me down on the table with a side of chips for free." The tension is already through the roof and we can't wait to see which item you'll choose as the winner of Week 3.
Best of luck and happy drafting.
Feel free to hit us up anytime on Facebook, Twitter, Instagram to show how you enjoy your favorite Fantasty Foodballs. As always, you can order from EatStreet online or on our free mobile app available on iOS and Android.