Hi everyone! It's me, Chris Attaway, your friendly neighborhood Curd Nerd, and yes, the moment you've all been waiting for is finally here! My quest to find the best cheese curds in Wisconsin has come to an end.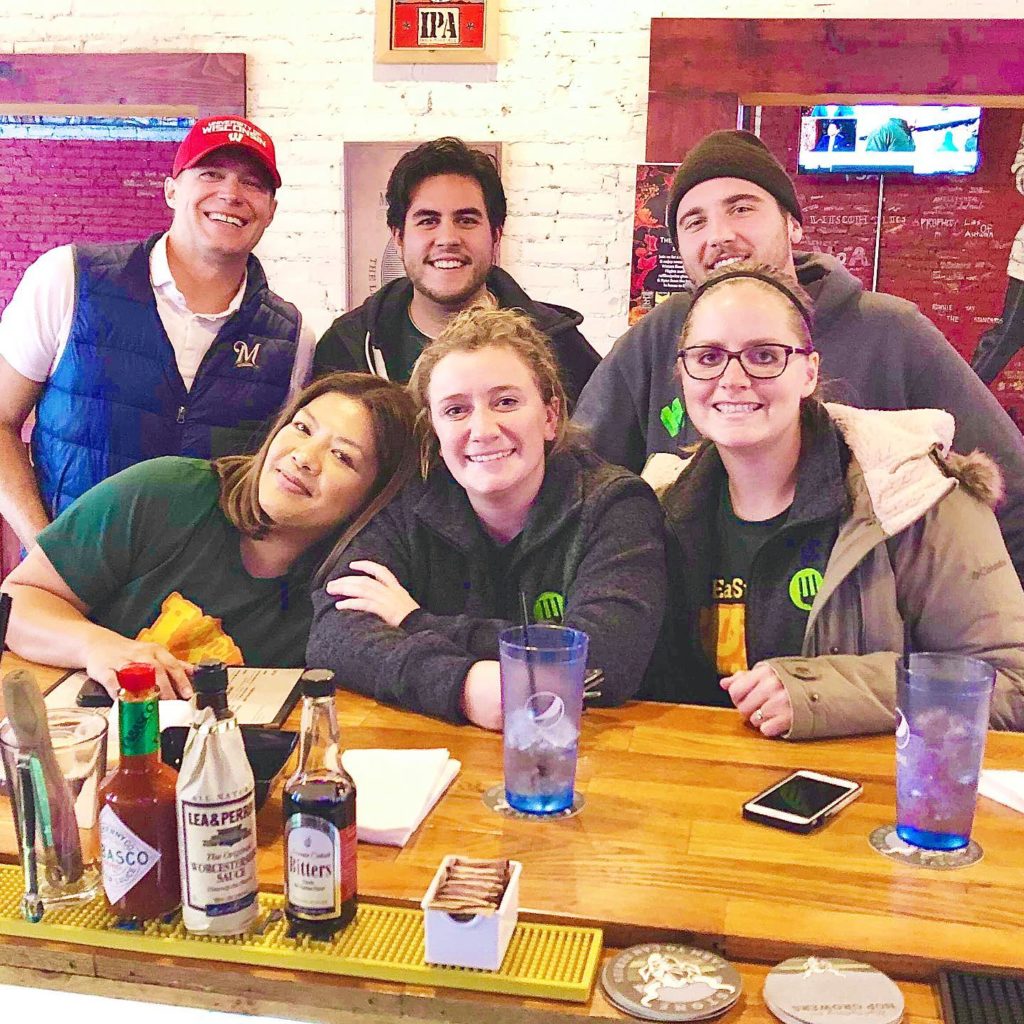 In 11 days, we've racked up over 1200 miles in the trusted EatStreet van, visited 11 cities, stopped at 37 restaurants, milked 1 cow, and listened to Lizzo's Truth Hurts on the radio 45 times. Don't even ask me how many cheese curds I consumed, because frankly, I lost count. I can tell you this… I weighed myself before and after this trip and LOST 4 pounds! Is that even possible??? Could it mean that eating curds for 11 days straight is the answer to weight loss? Did we inadvertently invent the next fad diet?
Alright Chris, let's not get ahead of ourselves here. Focus. Back to your report.
Anyhoo… we visited the following towns: Janesville, Monroe, Madison, Milwaukee, Fond du Lac, Eau Claire, Wausau, Ellsworth, Oshkosh, Appleton and Green Bay. Believe me, if we had more than just 11 days, we would have gladly visited every single town in Wisconsin. However, we did the best we could with the amount of time we had, and I am thankful for all the lovely places we were able to visit.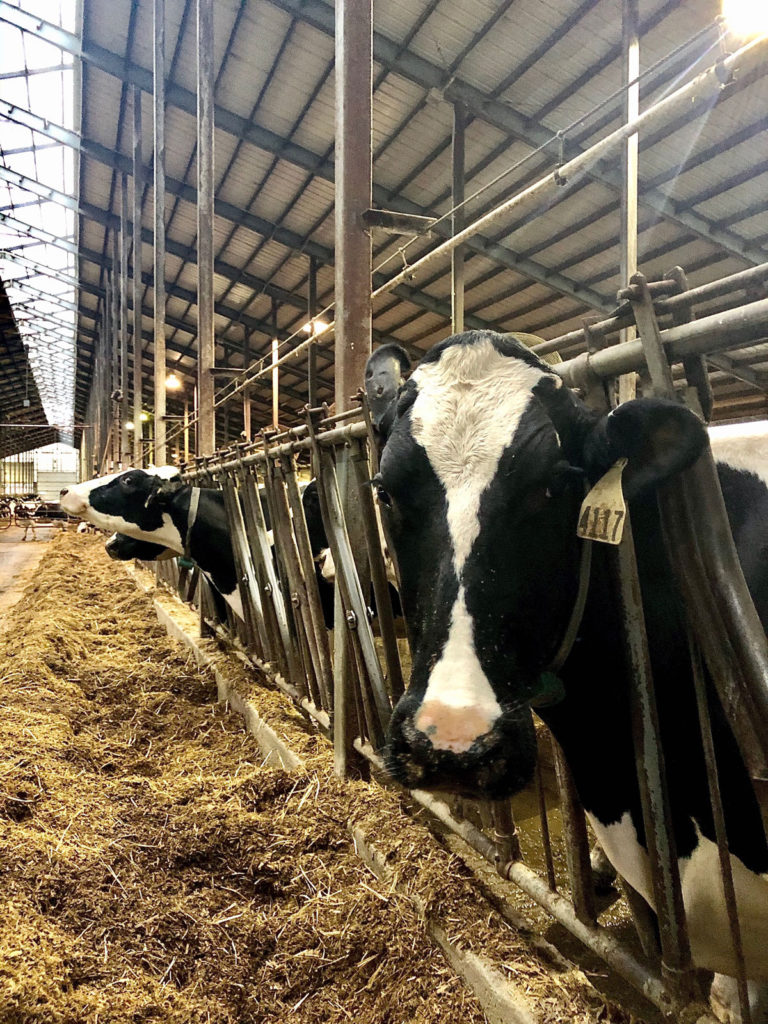 We also wanted to learn more about "step one" of cheese, so we visited the Larrand Dairy Farm in De Pere and even got to milk a cow! Checked that one off my bucket list. Kelly and the kind folks at the dairy even treated us to some yummy Cream Puffs… for breakfast! Yup, just living the dream here. This was my first Dairy Farm tour and I was incredibly impressed with the entire operation and learned so much. Everything I thought I knew about dairy farms were shattered, and in a good way. Mad respect goes out to all the dairy farmers that get up BEFORE the crack of dawn to ensure that Wisconsin has quality milk from well-cared-for cows to produce all the delicious cheese.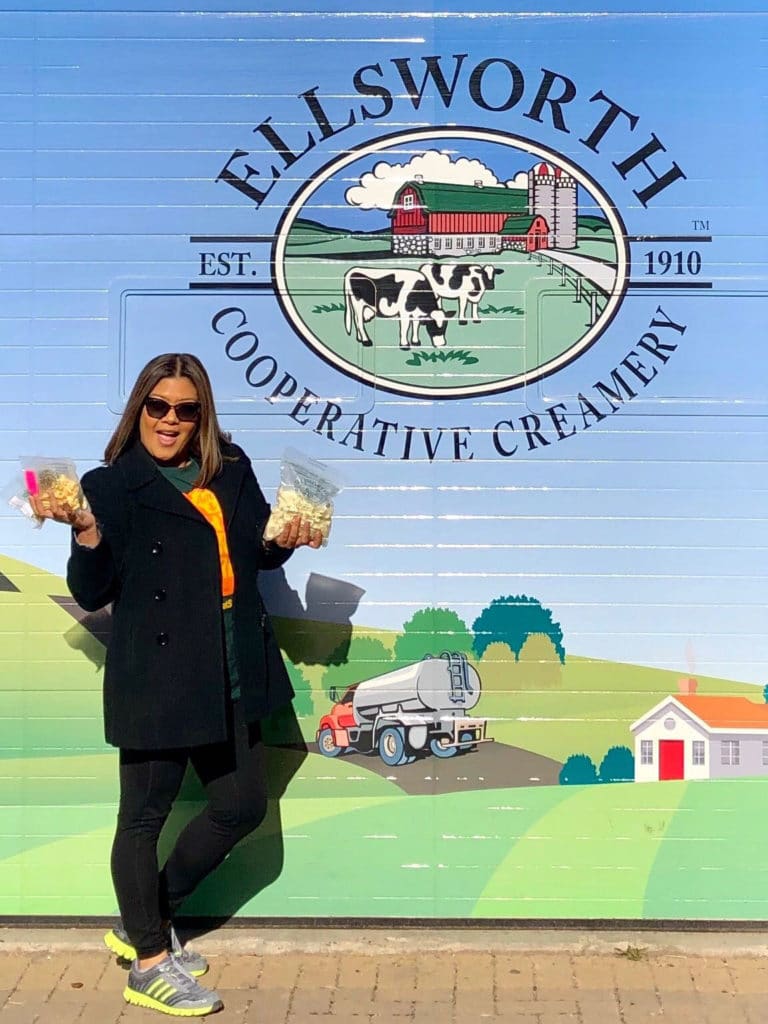 Now, we certainly couldn't do a proper Curd Campaign without visiting Ellsworth Cooperative Creamery, the Cheese Curd Capital of Wisconsin… and maybe… the world? Why not, right? We tried their fresh cheese curds, and it was one of the squeakiest curds I've ever put in my mouth. INCREDIBLY FRESH. I completely understand why folks get there as soon as they open for the freshest batch. We also tried some of their flavored curds like Taco, Ranch, Pizza, and even Cajun. All were good, but their plain white cheddar curds were my fave. Is it worth the pilgrimage? Of course! It's the Cheese Curd Capital!
I was also able to meet some of the other Curd Nerd finalists: Joel Dhein (he was with a cow statue while a motorcycle drove by), Cierra Steiner (she rated the KwikTrip cheese nuggets), Sam Kube (he was with his dog Putter), and Kelsey Miles (she sang in her video). They are some of the nicest people I've ever met here in Wisconsin. We all share the same love for all things curds and we had a blast just hanging out and, you guessed it… eating curds! I can't wait for you to see some of the behind-the-scenes videos and pictures we took together. We clearly had waaaay too much fun during them. Hey Kelsey, Sam, Cierra, and Joel… anytime you want to hang out and eat more curds, hit me up! I already know it'll be a blast!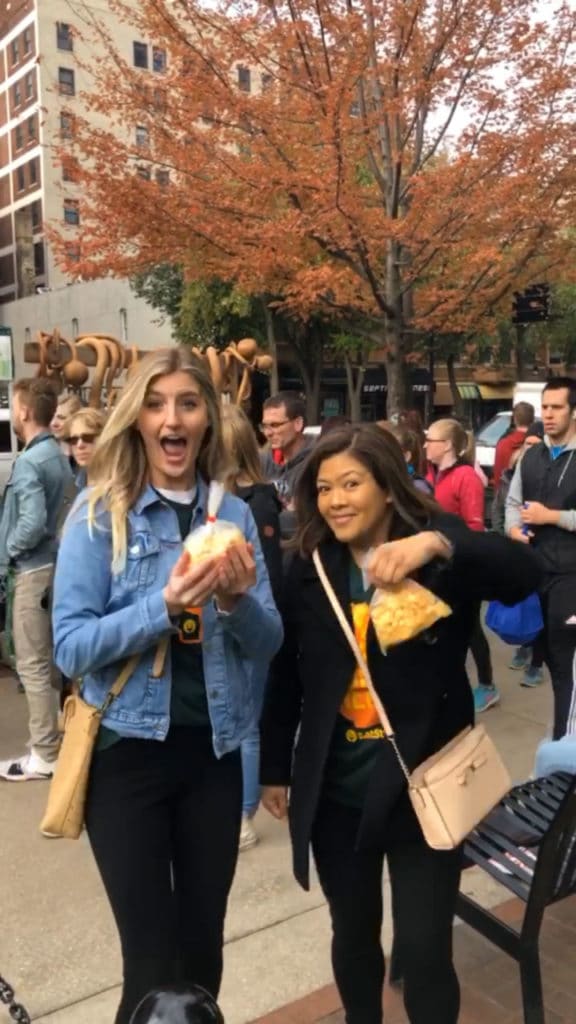 Now let's get back to the curds. Many of you have asked about how the places we visited were chosen. In the spirit of full transparency, I'm happy to share this with you. All of the stops are restaurants that are currently on the EatStreet platform, meaning, you can order food for delivery from them on both the EatStreet iOS or Android app or website.
Before you start rolling your eyes about how these restaurants and bars were chosen, please keep in mind that in 11 days, there are only so many cities and towns we can visit in the entire state of Wisconsin. I support EatStreet's decision to pick and choose partner restaurants on their platform. This is their Curd Campaign after all. Will some of the places you love not make it on the list? Possibly. Will there be rankings that you don't agree with? Probably. Will there be backlash after this list is published? Most likely. Can we all still be kind to each other knowing that food preference is subjective and that everyone's opinion can differ? Absolutely. If we can do this, then my faith in humanity is restored.
Judging is based on the following criteria: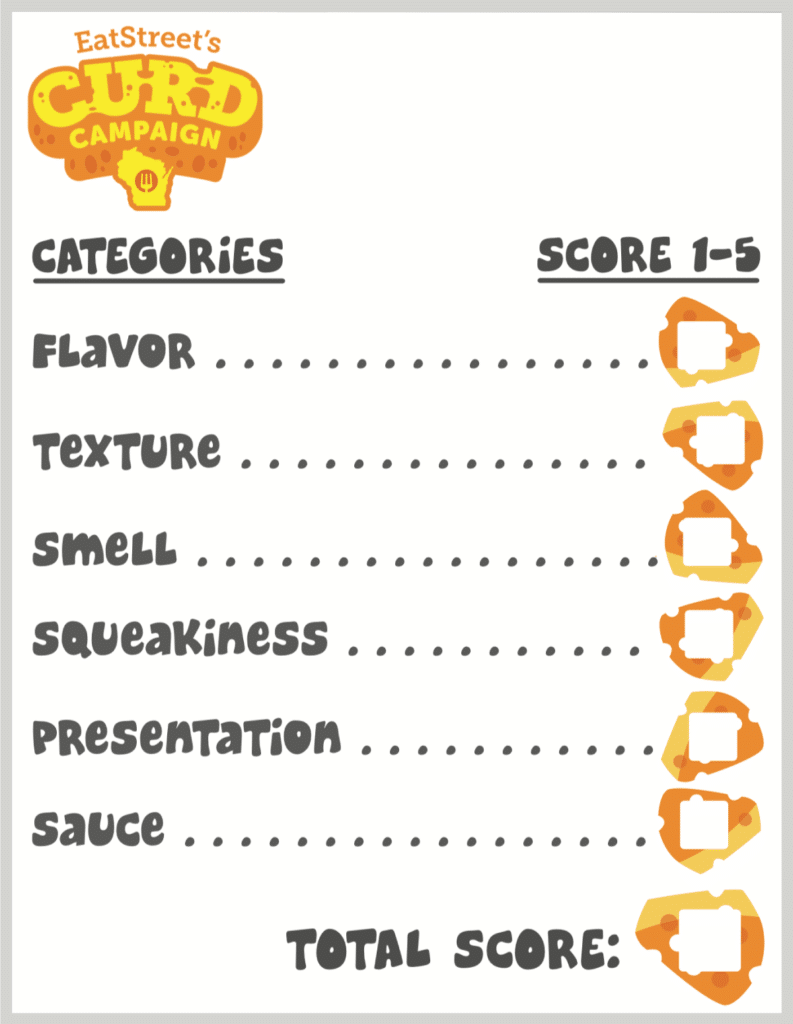 For all you purists out there, I get it, you don't want that sauce category in there, but considering every single place we've visited had them, we're including it. Rest assured that I did try the curds with and without the sauces that were provided 😉.
I know, I know, get to it already. Well, here you go. Drumroll please…..
The Top 10 Cheese Curds:
Stone Arch Brewpub (Appleton)
Longtable Beer Cafe (Middleton)
Tavernakaya (Madison)
Crafty Cow (Milwaukee)
Avenue Club (Madison)
The Sweet & Salty Pig (Fond du Lac)
Milwaukee Burger Company (Wausau, Eau Claire, Appleton)
Titletown Brewing Company (Green Bay)
2510 Restaurant (Wausau)
An honorable mention goes out to Pro Players Sports Bar & Grill in Schofield, WI. This unassuming local sports bar makes their cheese curds to order, and sources them from Mullins Cheese in Mosinee, the largest family-owned and operated cheese factory in Wisconsin. They are hand-breaded and served with ranch sauce made in-house. If you like fried curds with still a bit of squeak to them and coated with breading found in a classic chicken nugget, then you'll enjoy these curds.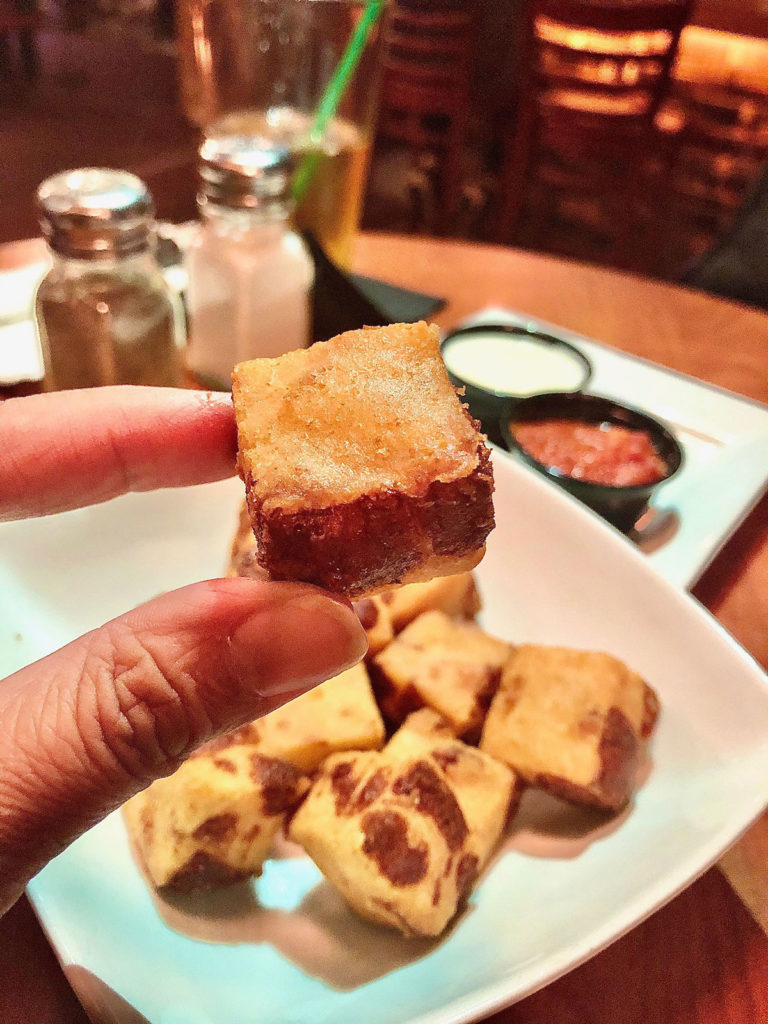 Why did I choose Stone Arch Brewpub in Appleton as my top curd? First and foremost, I was impressed with the overall flavor and texture of their cheese curds. Their square-shaped curds are brought in fresh from Chippewa Falls and are made with their own Stone Arch Scottish Ale batter. The curds were perfectly executed with a golden brown color and a light yet crisp outer texture. Each curd was the perfect size. No knife and fork necessary to eat these square pieces of deliciousness. The cheese becomes one with the batter, but somehow, it's still the star of the show with a subtle hint of Scottish Ale. Did it come with sauce? Yes, marinara and ranch, and both were delicious with it. Did the curds need it? Absolutely not. These cheese curds can stand on their own.
There you have it folks!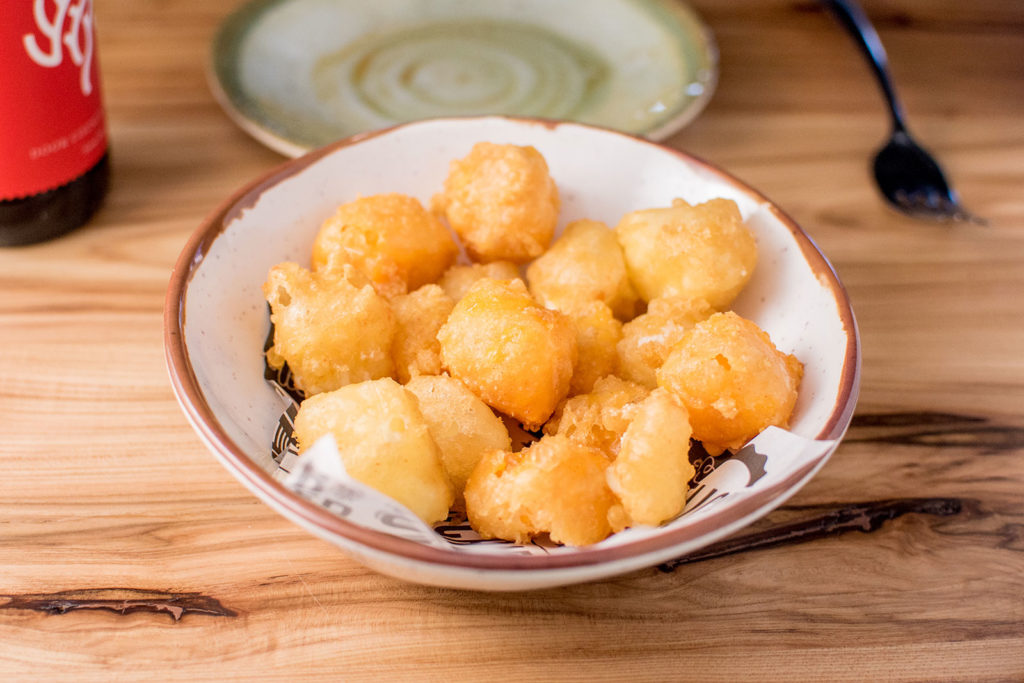 Ranking all the cheese curds I've tried is one of the hardest things I've ever had to do. I've gone skydiving from 14,000 feet, and even climbed the Sydney Harbour Bridge in Australia and both pale in comparison to picking the best cheese curds in Wisconsin. When every spot we visited tells me that they have "the best curds in town", it's evident that not only did every cheese curd we ordered come with sauce, but also a side of Wisconsin pride. The people at all of the restaurants and bars were so incredibly kind, which made it even harder to pick the best ones.
So, what did I learn from this entire experience?
Wisconsin is serious about cheese curds, be it fried or fresh, and everyone has an opinion about it. What I know for sure is that cheese curds are delicious and fantastic when shared with friends, or even with strangers, which I got to do a lot of during this campaign. I've met great people who share the same love for curds as I do, and regardless of how we each critiqued the curds we ate, it still brought us together. We had a great time. It was all love.
Now that this crazy, cheesy ride has come to an end, I will sign off as your Curd Nerd. I encourage you all to venture out of your comfort zone and try cheese curds from places you've never been, and create your own top 10 list. You may be surprised at who ends up on the top, and who you'll meet along the way. My tenure as Curd Nerd may be over, but I'm never finished trying all the tasty foods this world has to offer. If you want to check out any of my other food adventures, follow along at:
https://www.instagram.com/epicureanchronicles/
https://www.facebook.com/EpicureanChronicles/
https://twitter.com/epicureanchron
https://epicureanchronicles.com/
https://www.facebook.com/groups/EatDrinkandbeSocial/
Love and cheese curds,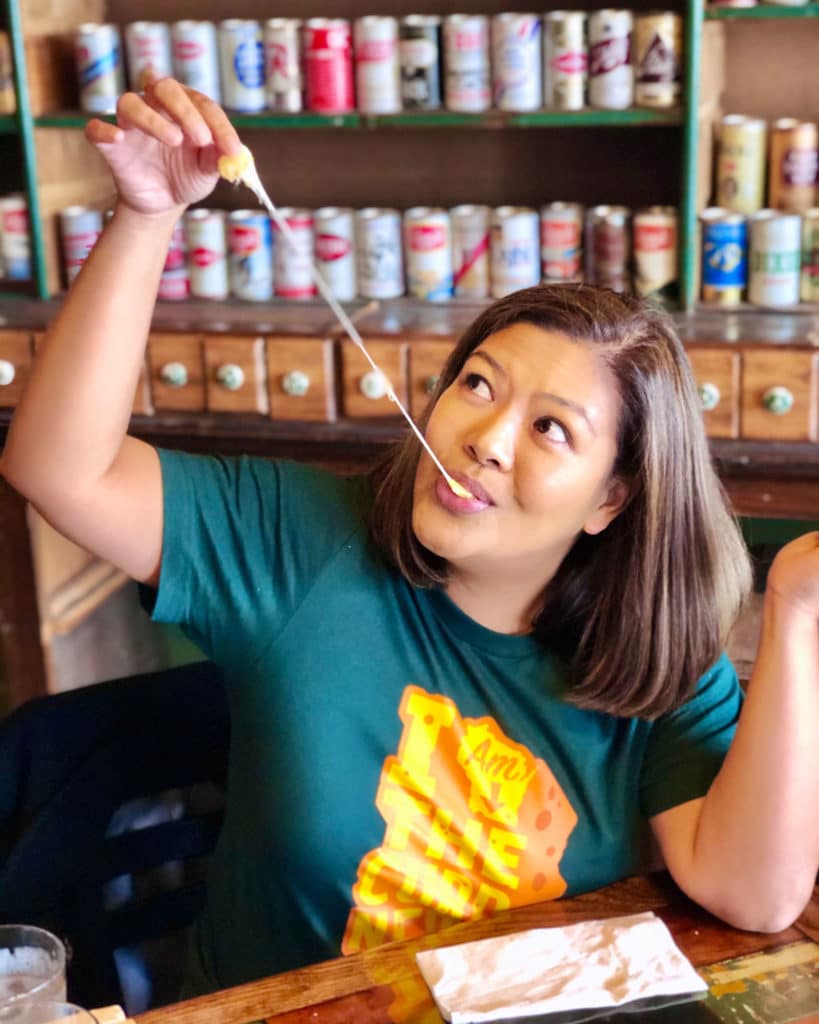 Chris Attaway, your Curd Nerd.