It's Valentine's Day, the day of love. You could head to a white clothed table adorned with dimly lit candles and a charcuterie board of cheeses you can't pronounce. Or, you could have a more laid back evening with EatStreet. We're here to hook up your hunger on the most romantic day of the year. Get in the mood for food with one of our food valentines to share with your loved ones that are so good, they could probably be classified as an aphrodisiac.
We've got a card perfect for lovebirds, singles and everyone in between! So pick one out that matches your food mood this Valentine's Day.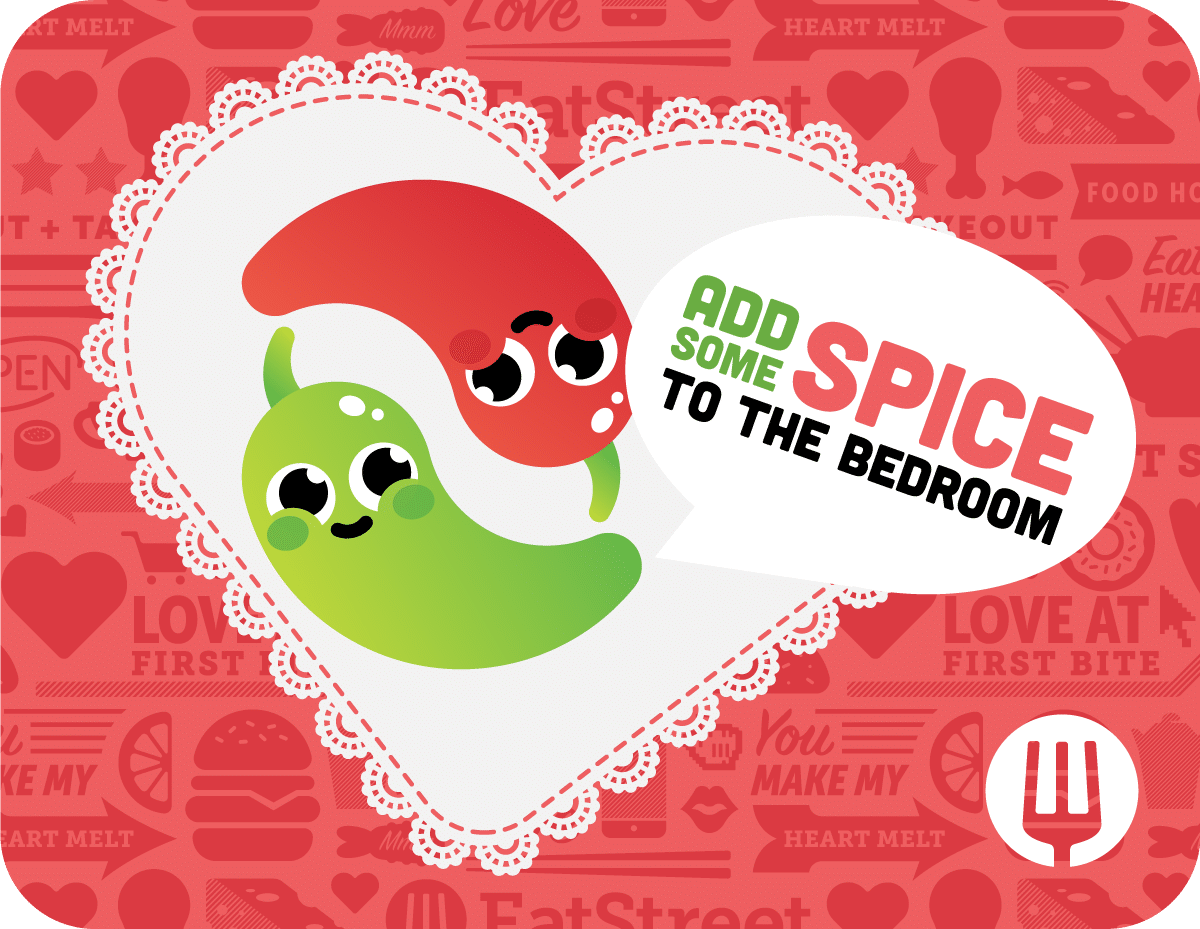 Looking to add some heat to your Valentine's Day? Take the lead from these hot and steamy peppers who are spicing things up and get something that set your taste buds on fire!
Want a comfy cozy, night in with something that makes you happy? Whether it's a long-term relationship, your closest friend or an ol' reliable food order, get wrapped up by something you love and snuggle up real close.
People want to feel loved, so let someone you care about know how gouda you are for each other! Whether you're in a relationship or heading into VDay provolone, make sure you send love to those you care about, even if it sounds cheesy.
Are you ready to commit to a lifetime of happy eating and eternal bliss? Let the burning, intense love of delectable food allow you to take a plunge with EatStreet. When you need us most, we'll be here for you.
While some people get wrapped up in the romance of Valentine's Day, others just wanna have fun. Whether it's someone you're into or a fresh order for takeout, pucker up to something you're passionate about.
If these tasty cards got you feeling extra hungry, check out www.eatstreet.com or the EatStreet app on iOS and Android to get a head start on your Valentine's Day dinner plans.